HERE'S WHAT'S HAPPENING AT THE RANGE
You can also click on the

for more information about our events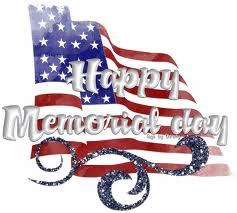 Memorial Day is Monday, May 28th

WE ARE OPEN

regular hours for the holiday weekend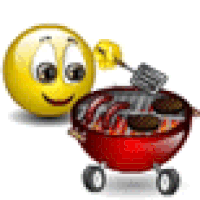 Come out to our

at the range on Monday -

Memorial Day -



we will feed you hot dogs from 11am - 5pm!

(WHILE THEY LAST)

MEMORIAL DAY SALE

Discounts good through June 1st
Sale on in-store in-stock merchandise
(does not include consignment guns)
10% off merchandise purchase of $50 or more

15% off merchandise purchase of $125 or more

CHECK OUT THIS GREAT DEAL FROM GLOCK

VETERANS CAN GET IN ON THE BLUE LABEL PROGRAM FROM MEMORIAL DAY THROUGH LABOR DAY!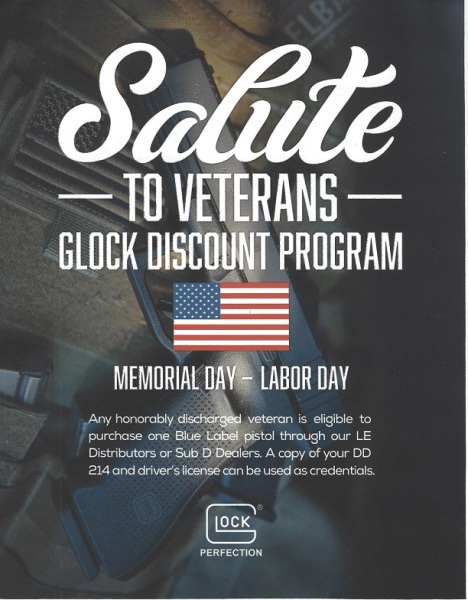 Please note that LE (Blue Label) guns are a separate promotion and are not included in our Memorial Day Firearms sale


You asked for it - you got it!

We are trying out a new Evening GSSF Match II
for the month of May 2018!
This series will be done on Tuesday nights from 5-8PM, and all three matches of the series will be in May:

May 1st, 15th, and 29th

.
Come on out and give it a try!

Same match and quarterly prizes as our regular weekend series!
Don't worry, we still have our regular GSSF Match on the first Saturday of each month - Next match is May 5th 10am - 2pm


LADIES!!  TWAW is here at the range! Monthly meetings will be held on the 2nd Thursday of the month 6-8PM

Come and check it out.

 (You do not have to be a member to come to your first meeting )

Looking for a Silencer or Suppressor?

We are now partnering with

The Silencer Shop

Click
HERE
to check it out!
(They also have an Apple Ap: "Silencer Shop")

Next Weekend GLOCK Match Saturday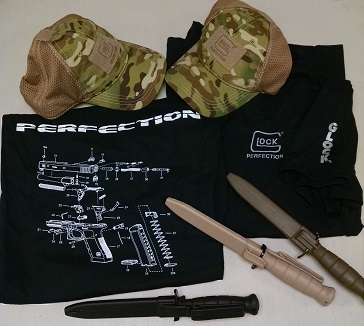 These are some examples of the Glock Goodies for the monthly drawings. There are camo/mesh GLOCK hats, GLOCK Perfection T-shirt in Black with the breakdown on the back, and one with the "GLOCK" on the sleeve.  We also have black, tan, and OD green Glock tactical knives.
You get 1 raffle ticket per entry and we pull 3 winning tickets for the month.
The tickets also go in the quarterly drawing  for the free GLOCK PISTOL!
You need to shoot in 2 out of 3 matches for the quarter to qualify for the gun giveaway.
Glock Goodie Winners
APRIL -  Harley Wiegert,  Alisa Kay Sloan,  Robert Greenage

MARCH -  Todd MacLean,  Gregg Gaither,  Tom Lewek

FEBRUARY -  Mike McCullough,  Nancy Merrell-Robertson,  Jason Smith

JANUARY -  Danny Traynor,  John O'Connor,  Bob Morris

If you have not yet picked up your prizes, just ask the guys next time you are in the range! 
Shooting Sports
New Merchandise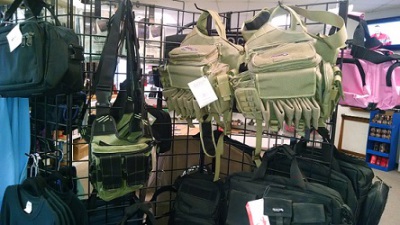 Info
We have a great variety of range bags in stock here at the range store.
Come on by and check out the inventory!

We endorse membership in the NRA.
By clicking on the logo to the left you will be taken to the NRA page that will give you a special discounted membership rate for joining through our website. You can also use this discount for renewals if you are already a current member.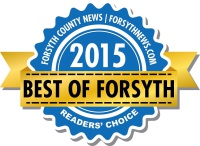 HEY ! We were voted the Best Gun Shop in Forsyth County - thanks to all of you that voted for us!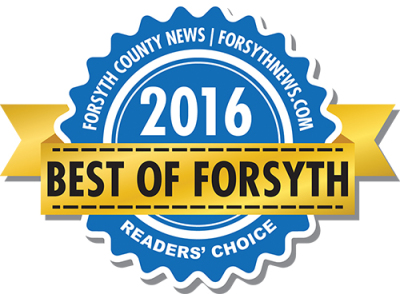 SWEET !!!!
We did it again!
Thanks for all your votes!
Thanks everyone for voting us as the BEST GUN STORE once again!